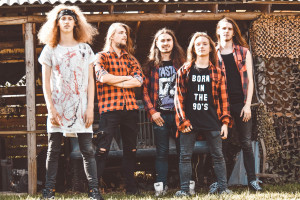 Terror Activator - thrash metal band from Riga, Latvia that has started their road in January 2017.
Terror Activator is a fast as hell combination of old school thrash metal and new wave of thrash metal. TA consists of 5 young hairy beercoholics that are always busy with partying, headbanging and playing some music that probably makes you wanna move and thrash around.
On 20th of March, after almost 1,5 years of active performing, TA released their debut EP "Moshing is Available"
TA had an honor to share the stage with such bands as Skyforger, Septicflesh, Betraying The Martyrs and many others.